Studio Artour Artist, Annie Larson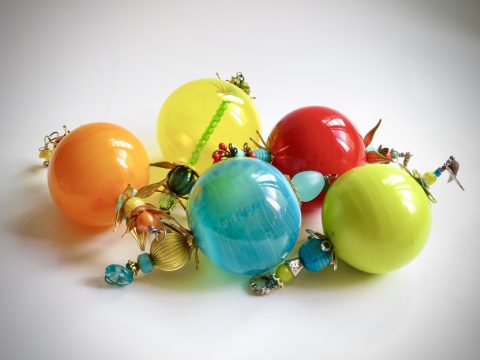 Sleepy Bean Studio will be in a new location this year! Our wonderful friend, Jenn Wolcott, is taking a year off so Heather, Cathy and I had to find new locations. Colleen Riley and Donovan Palmquist of Eureka Pots graciously let me come to their studio (#1 on the tour map and in our hearts). I am already calculating how many pair of earrings I will have to sell to come out even on all the pottery I will buy.
This pandemic has been stressful for many reasons, but one of the upsides is endless time at home and in the studio. I have learned a few tricks with new mediums, including wood cuts, stains, rivets, shrinky dinks (you read that right 😉 punches, leather and felt. I will have my ornaments again this year. Along with my usual earrings, necklaces and perhaps a bracelet or two. I have a whole new batch of charm necklaces that started out as single earrings from my grandma's stash of jewelry. They are mixed with other found items like drift wood and unique treasures.
I have been researching my Norwegian ancestry during these hunker down days and my new earrings were made channeling my inner Viking shield maiden. If ever there was a time for protecting oneself and for battling all the evil forces out there…
Speaking of COVID projects, I have (finally!) started a website and an Instagram page. I am adding new things all the time. By that I mean I am paying my recent college grad to add things for me. Thanks Boo! Check out all her hard work! LOL.
Sleepy-bean.square.site
@sleepybeanstudio
Facebook.com/sleepybeangirl