Kathy Miller, water color artist, prepares for the tour
I love fall, a season of great beauty, a season of great change.  Leaves make their gradual but steady shift from the luscious greens of summertime to the warm rusts, crimsons and golds of autumn.  Apples, squash and pumpkin are ripe for the picking.  And the crisp, cool edge in the air makes for pleasant walks in the Arboretum.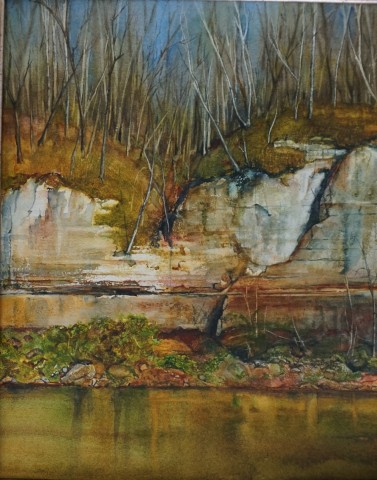 A lot is going on in the studios of dozens of artists in and around Northfield as well, as painters, potters, weavers, jewelers, artists of all types prepare for the upcoming South Central Minnesota Studio ArTour.  The dates are Saturday, October 17 (10 am – 6 pm) and Sunday, Oct. 18 (11 am – 5 pm).  Several studios are open Friday evenings also, so be sure to check the website for those names at http://studioartour.com.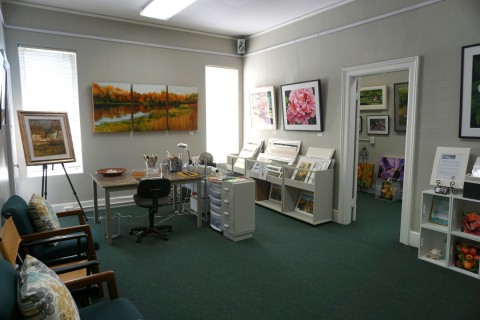 This is an exciting year for me as I prepare for the first StudioArTour in my new Studio 105 in downtown Northfield (#18 on the StudioArTour).  It is located at 105 E. 5th Street, on the second floor of the Lampe Law Office Building (directly west of the municipal parking lot).  This new space has provided an ongoing venue to hang my watercolor paintings, as well as to teach classes.  In spring I held two watercolor workshops for intermediate watercolorists, and this fall taught both a beginners and an intermediate workshop.  The details for upcoming classes are posted on my website at http://www.kmillerwatercolors.com , as well as my Facebook page for K. Miller Watercolors.
In addition to the dozens of original paintings hanging throughout my studio, I have available hundred of greeting cards, and prints of all sizes and shapes.  You'll find everything from florals to regional landscapes to still lifes.  The most recent pieces are several scenes of northern Minnesota painted from my many photos taken of this favorite part of our state.  Also, I've had a lot of fun lately painting several bird pieces, which are available in originals, prints and cards.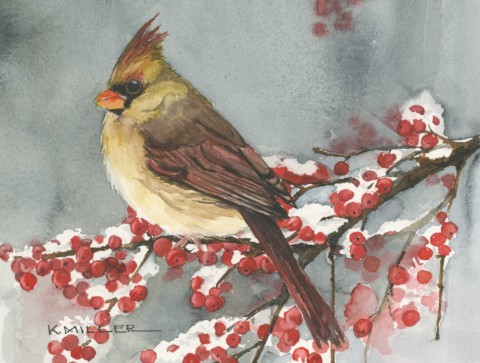 So please stop up during the tour.  Have a cup of coffee, browse around, ask questions!  I'll be working on a painting or two – and there's always paper, paints and brushes lying around for you to do a little dabbling if the spirit so moves you!!
Kathy Miller