10th Annual Artour Just Around the Corner!
Well, today is the day that I am sure all our Artour artists are working very hard doing last minute preparations  for the Studio Tour tomorrow! Studios are being cleaned, signs put up, last minute artwork finished up, kilns being unloaded, displays put up and probably some food being prepared! I know I sure am; the chickens have been fenced off, the studio is pretty clean, the kiln unloaded and all that remains are for pots to be put out and priced and my cats briefed on being nice to all the people who will come by.
My two guest artist (Juan Fried and Mary Ellen Frame) will be putting up their displays today and putting out their wares tomorrow morning.
Here are a few guest-posts that came in:
Dave Peterson writes about his evolution as a woodturner:
This is my first year participating in the ArTour as an artist, rather than as a spectator. Here's why.
Before I moved to Northfield three years ago, I knew I wanted to be a woodturner, and had dabbled. I was by no stretch a professional turner. The only evidence of my ambition was the equipment I had acquired. I was missing an image of myself as a professional woodturner. At best, I was tentative and even a little apologetic about my work. The community I had been living in didn't provide support or incentive. I knew only one or two people with whom I shared my work. My family (fortunately a numerous tribe) was my only attentive audience. Then, I moved to Northfield and everything changed. Here, I found a large, creative, enthusiastic, generous, warm and supportive community of artists and artisans. I found wood-, glass-, and leather- workers; jewelers and metalworkers; bead and fabric artists; photographers and painters; and ceramicists. These are people whose work is at the center of their lives. They showed me this and shared the energy they put into their art. Best of all, they simply assumed I was as serious and committed as they are. They assumed that I was one of them. They have encouraged me in more ways than I can list. With very little evidence to go on, they took my efforts seriously. They took it for granted that what I made was worth my time and effort and worthy of their attention. As I got to know them, they began asking about my work. They now press me to take myself seriously and to spend more time in my shop. The more I get to know them, the more energized I am. No less important, I found that the larger community, the people and culture of Northfield, also support the kind of work I want to do. They support the arts community by making sales and exhibition events possible and by attending them. People stop me often to say they have seen my work and appreciate it. My father-in-law once told me that the most sincere form of appreciation is money. In this way too, the larger community – Northfield, Rice County, southeast Minnesota – has shown the value they put on my work So all in all, as a Northfield artisan, I take myself more seriously than seemed possible before. I value my work more highly. So, I work to improve my skill, to raise the quality and enhance the beauty of everything I make. The opportunity to participate in the Artour is one more step in this process. My warm thanks to the artists and people of Northfield! I will be showing my work at the studio of Barbara Zavaruha, a generous person and ceramicist who makes useful things of great beauty. But then, that is true of everyone showing their work in the ArTour.
Kathy Anderson also speaks of community in her post:
Community Weaving at Studio #7
As I prepare to warp my traveling loom for the 2014 Studio ArTour I eagerly anticipate seeing many of you sit down at the loom to give it a try.  The "no mistakes" philosophy means you can approach the selection of color and texture with absolute freedom. -Missed a few of the warp threads as you pass the shuttle through? -Yarn pulled a bit tighter than the last person? -Your beat a bit harder than those before you? No problem! It's all a part of the beauty of the final piece.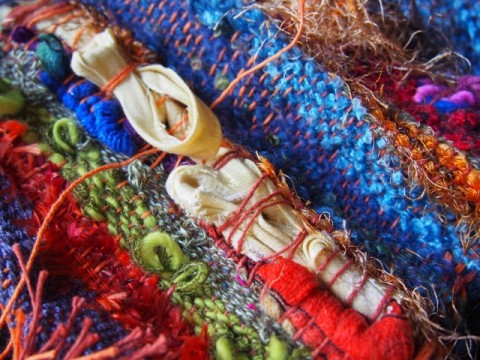 Truly, it is amazing how a section with an unexpected pop of color blends right in once the piece is completed and taken off the loom. Your personalities some shining through and it makes me smile.   When I need to "get out of my box" or feel stuck I often turn to the community pieces for inspiration to bring back a playful approach to my weaving.  Thank You! Last year, fellow Studio #7 artist Patsy Dew took some fabulous pictures of the Community piece and skillfully created one of her beautiful boxes for me.  I love it! You'll have to check it out when you stop by.
Rand Whillock,  a new stop on the tour, describes what you will find when you stop by their Studios; lots of great art!
Four Whillock family artists converge on Ivan Whillock studio for an open house as part of the Southern Minnesota Studio Tour
Ivan Whillock, renowned artist and woodcarver will host at his studio, two of his sons and a niece. Chris Whillock is also a woodcarver, Rand Whillock does glasswork, and Ivan's niece Katie (Whillock) Olson works in ceramics.
Ivan Whillock did his first wood carvings at the age of twelve in his father's furniture shop. He received his art degree in 1959 and has studied with sculptor Angel Lillo, and master carver Eduardo Gutierrez. Ivan's wood sculpture, bronze statues, and reliefs can be found in churches, businesses and private collections around the world. Ivan is also renowned as an excellent teacher and has authored many books on woodcarving and art. Ivan says that "One of the joys of wood carving is that there is beauty in the material itself." He also says that his fascination is in trying to take advantage of the beauty of wood while challenging its limitations. Ivan also plays in the Faribault based swing band "Jivin' Ivan and the Kings of Swing along with another brother, Mark Whillock. More of Ivan's art work can be seen on his web page at: www.whillock.com.
Ivan's son, Chris Whillock is a woodcarver from Faribault, Minnesota specializing in hand carved wood spirits and Santa carvings. He uses mainly basswood and cottonwod bark for his creations. Chris also teaches woodcarving, hosts a local carving club and runs a woodcarving tool and supply business at: www.woodcarverswarehouse.com.
Ivan's oldest son, Rand, is late to the art field having taken up glass working about 7 years ago. Many of Rand's works are inspired by nature. He employs techniques including: torch-work, fusing, slumping and glass blowing. Some of his best works combine multiple techniques. Rand is looking forward to displaying his work alongside his dad, brother, Chris and cousin, Katie. Some of Rand's artwork can be seen at: www.whillockvisionsglass.com.
Ivan's niece, Katie (Whillock) Olson, is a ceramics artist from Owatonna. Katie's love for throwing and creating pottery started 8 years ago simply by signing up for a pottery class at her local art center. She took a hiatus during her pregnancy and births of her daughter and son. But has returned now to enjoy her weekly Monday Mud Club nights at the Owatonna Art Center. Katie creates functional pottery for the home and garden. Her pieces vary from mugs to bowls to vases and serving platters. Katie is excited to spend a weekend sharing her relatively new passion for creating art with her richly talented uncle and cousins.
The Ivan Whillock Studio is located at 122 1st Ave NE in Faribault. Works of the four artists will be on display Friday October 17th from 4 to 8, Saturday October 18th from 10 to 6 and Sunday October 19th from 11 to 5. There will also be live woodcarving demonstrations at the studio throughout the weekend.